A delightful menu for "Fennel's Feast": A Digestive Symphony
Appetizers
Fennel and Citrus Salad
Fresh fennel thinly sliced and tossed with segments of juicy oranges, tangy grapefruit, and a light citrus vinaigrette. Served atop a bed of mixed greens with a sprinkle of toasted fennel seeds. Recipe
Fennel and Roasted Garlic Hummus
Creamy chickpea hummus blended with roasted garlic and pureed fennel bulb, accompanied by warm pita bread and crisp vegetable sticks for dipping. Recipe
Main Courses
Fennel Seed-Crusted Salmon
Tender salmon fillets coated with a crust of crushed fennel seeds and aromatic herbs, oven-roasted to perfection. Served with a side of lemon-infused quinoa and sautéed fennel fronds.
Fennel-Stuffed Bell Peppers
Colorful bell peppers filled with a hearty mixture of fennel-infused rice, sautéed onions, garlic, and diced vegetables. Baked to golden perfection and drizzled with a light tomato-herb sauce.
Sides
Honey-Glazed Roasted Fennel
Fennel bulbs oven-roasted with a drizzle of honey, olive oil, and a sprinkle of sea salt until tender and caramelized, enhancing their natural sweetness.
Fennel and Potato Gratin
Layers of thinly sliced fennel and potatoes baked with a creamy béchamel sauce and a hint of nutmeg, topped with a golden, cheesy crust.
Breads
Fennel Seed Breadsticks
Crispy breadsticks infused with the rich aroma of fennel seeds, perfect for dipping in olive oil or accompanying the main courses.
Fennel and Cheddar Scones
Savory scones with a delightful combination of sharp cheddar cheese and finely chopped fennel fronds, served warm with butter.
Beverages
Fennel and Mint Iced Tea
A refreshing iced tea brewed with a medley of fennel seeds and fresh mint leaves, lightly sweetened with honey and garnished with a lemon wedge.
Fennel Infused Lemonade
A zesty lemonade infused with the essence of fennel, creating a unique twist on the classic favorite.
Desserts
Fennel and Orange Blossom Panna Cotta
A luscious panna cotta infused with the delicate flavor of fennel and hints of orange blossom, served with a tangy orange compote.
Fennel and Almond Cake
A moist and aromatic cake made with ground almonds and fennel seeds, topped with a dusting of powdered sugar.
Digestive Elixir
To conclude the Digestive Symphony, guests will be offered a small sip of Seraphina's Fennel Elixir, a warm infusion of fennel fronds, honey, and chamomile, believed to soothe and aid in digestion after the delightful feast.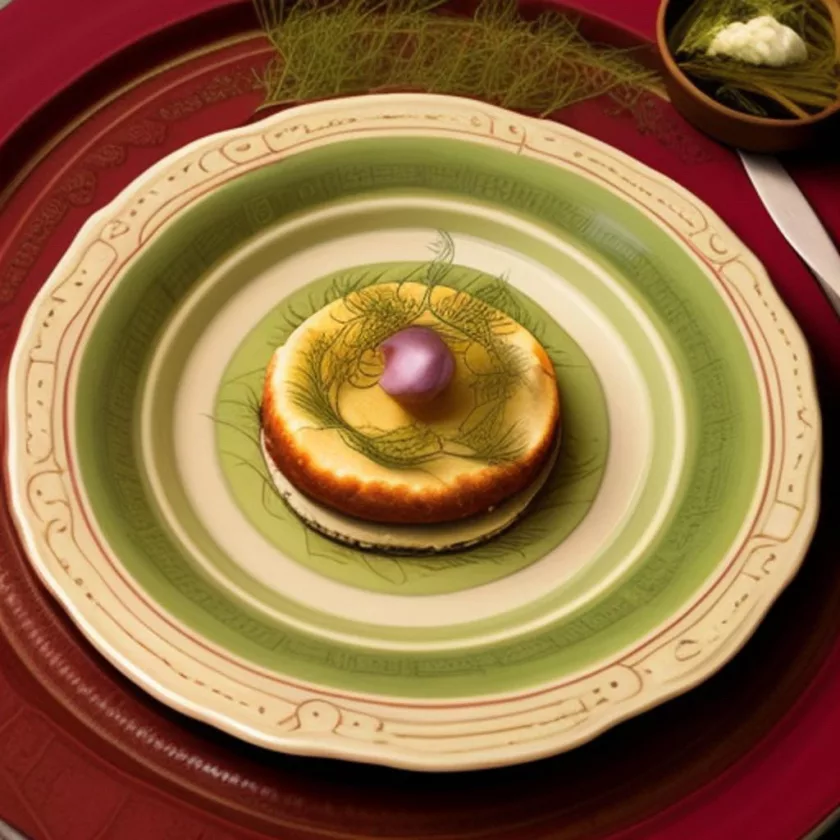 Enjoy the harmony of flavors and the magical touch of fennel in this enchanting culinary experience! Bon appétit! 🍽️✨
Source OpenAI's chatGPT-3 Language Model, AI trot and Fleeky
images Picsart and MIB

©️ help43
Invest in your future
Take time to learn
Learn affiliate marketing & build your own website with an awesome community and me. Invest in your future, take time to learn and earn. You can be a starter for as long as needed to master the basics before jumping higher. Give it a try, you will not regret! See for yourself...