A chestnut menu
Creating a chestnut-themed menu can be a delightful way to celebrate the flavors of chestnuts in various dishes.
Here's a three-course chestnut-inspired menu:
Appetizer
Chestnut and Mushroom Soup
"Indulge in a velvety symphony of flavors with our Chestnut and Mushroom Soup. Earthy chestnuts, roasted to perfection, join forces with sautéed mushrooms, creating a harmonious blend of rich, nutty goodness and savory umami. This soup, infused with fragrant herbs and a touch of cream, is a warm embrace on a chilly day. Served with a sprig of fresh thyme or rosemary, it's a comforting beginning to your chestnut-inspired culinary journey."
Ingredients
1 cup peeled and cooked chestnuts (roasted or boiled)
1 cup mushrooms, sliced
1 onion, chopped
2 cloves garlic, minced
4 cups vegetable or chicken broth
2 tablespoons olive oil
1/2 cup heavy cream (optional)
Salt and pepper to taste
Fresh thyme or rosemary for garnish
Instructions
In a large pot, heat the olive oil over medium heat. Add the chopped onion and garlic, and sauté until they become translucent.
Add the sliced mushrooms and cook until they release their moisture and start to brown.
Add the cooked chestnuts and vegetable or chicken broth to the pot. Simmer for about 20-30 minutes.
Use an immersion blender or a regular blender to puree the soup until smooth.
Return the soup to the pot, add heavy cream (if using), and season with salt and pepper. Heat gently.
Serve hot, garnished with fresh thyme or rosemary.
Main Course
Roast Chicken with Chestnut Stuffing
"Prepare to be captivated by our Roast Chicken with Chestnut Stuffing, a dish that embodies the essence of rustic elegance. Our tender and juicy whole chicken, roasted to golden perfection, is an ode to classic comfort. Inside, discover a hidden treasure—a chestnut stuffing, rich with the warmth of the season. As you carve into this masterpiece, the aroma of roasted chestnuts mingles with succulent chicken, creating an unforgettable dining experience."
Ingredients
1 whole chicken (about 4-5 pounds)
2 cups chestnut stuffing (prepared in advance)
2 tablespoons olive oil
Salt and pepper to taste
Instructions
Preheat your oven to 375°F (190°C).
Season the chicken inside and out with salt and pepper.
Stuff the chestnut stuffing into the chicken's cavity.
Tie the chicken legs together with kitchen twine.
Place the chicken in a roasting pan and brush it with olive oil.
Roast in the preheated oven for about 1.5 to 2 hours or until the internal temperature reaches 165°F (74°C) and the skin is golden brown.
Let the chicken rest for about 10 minutes before carving.
Dessert
Chestnut Mont Blanc
"Conclude your chestnut-themed feast with a sweet crescendo—the Chestnut Mont Blanc. Delight in the luscious dance of velvety chestnut puree and ethereal whipped cream. Each spoonful is a symphony of flavors and textures, where the nutty sweetness of chestnuts takes center stage. With a dusting of chocolate shavings for an encore, this dessert is the grand finale to a memorable culinary performance."
Ingredients
1 cup peeled and cooked chestnuts (roasted or boiled)
1/4 cup milk
1/4 cup sugar
1 teaspoon vanilla extract
1 cup heavy cream, whipped
Chocolate shavings for garnish (optional)
Instructions
In a blender or food processor, combine the cooked chestnuts, milk, sugar, and vanilla extract. Blend until smooth.
Transfer the chestnut puree to a piping bag or a plastic bag with a corner snipped off.
Pipe the chestnut puree onto serving plates in a mont blanc shape (a mound).
Top with a generous dollop of whipped cream.
Garnish with chocolate shavings if desired.
This chestnut-themed menu combines the earthy, nutty flavor of chestnuts in a comforting soup, a classic roast chicken with chestnut stuffing, and a delightful chestnut dessert. Enjoy your chestnut feast!
Shop Corner
Chestnut on Amazon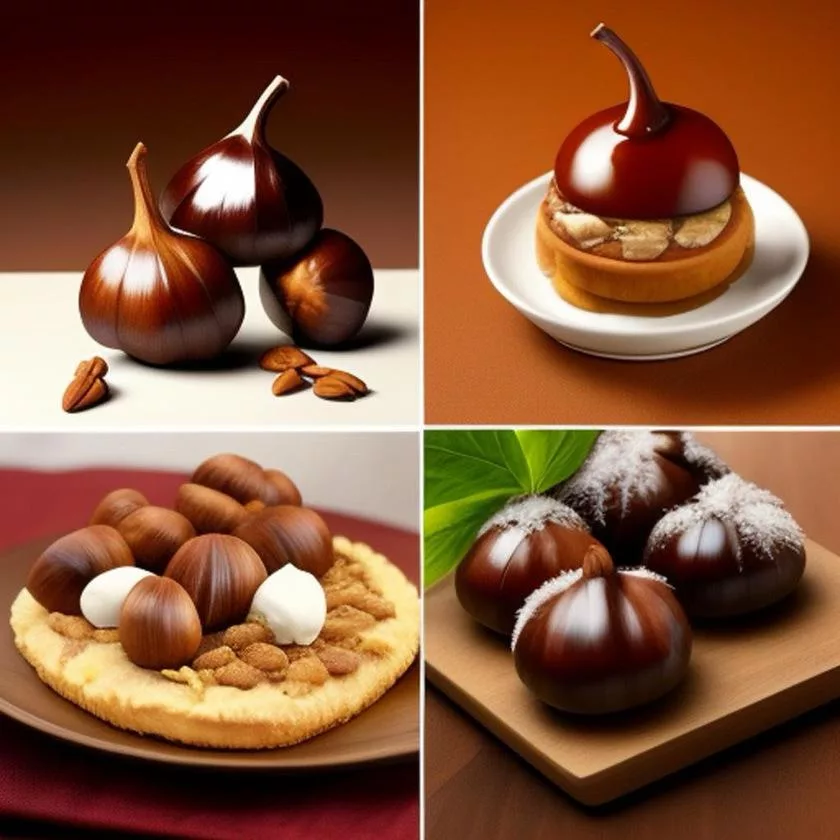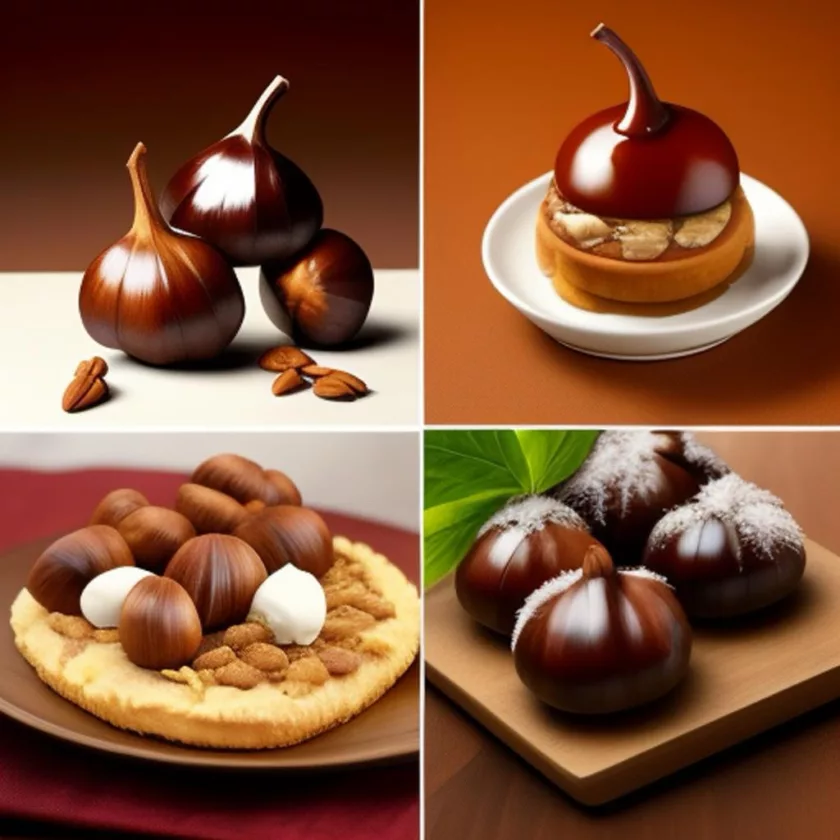 Enjoy your chestnut-inspired meal and culinary adventure. May it be a delicious and delightful experience! Bon appétit!
Source OpenAI's chatGPT Language Models, Dalle, AI trot and Fleeky
images Picsart and MIB

©️ help43
Invest in your future
Take time to learn
Learn affiliate marketing & build your own website with an awesome community and me. Invest in your future, take time to learn and earn. You can be a starter for as long as needed to master the basics before jumping higher. Give it a try, you will not regret! See for yourself...
Related posts