History of Bamboo as Timber
Bamboo has been used as a building material for thousands of years, particularly in Asia and other tropical regions where it is abundant. In China, bamboo has been used for construction since the earliest dynasties, and some structures made entirely of bamboo still stand today, including the famous Guoqing Temple in Zhejiang province. Bamboo was also widely used in Japan for traditional architecture, such as the iconic Japanese tea house.
In addition to its use in traditional architecture, bamboo has been used for many other purposes throughout history, including as a material for furniture, tools, and musical instruments. In the 19th and early 20th centuries, bamboo was a popular material for bicycle frames and fishing poles.
Today, bamboo is used for a wide range of applications, from flooring and furniture to scaffolding and bridges. Its strength, durability, and renewability make it an increasingly popular choice for sustainable building projects around the world.
Harvesting and Processing Bamboo for Timber
To use bamboo as a construction material, it must first be harvested and processed to remove the outer layer and prepare it for use. Here's a brief overview of the harvesting and processing steps:
Choose the right bamboo
Not all species of bamboo are suitable for construction. Some of the most commonly used species include Moso bamboo (Phyllostachys edulis), Guadua bamboo (Guadua angustifolia), and Dendrocalamus asper. The type of bamboo chosen will depend on factors such as the desired strength, flexibility, and durability of the final product.
Harvest the bamboo
Bamboo can be harvested once it has reached maturity, which typically takes between 3 and 5 years depending on the species. The stems are cut at the base and transported to a processing facility.
Remove the outer layer
The outer layer of the bamboo stem, called the culm sheath, is removed to reveal the smooth, woody interior. This can be done using a variety of methods, including soaking the stems in water, burning off the outer layer, or scraping it away with a knife or machete.
Treat the bamboo
To increase its strength and durability, the bamboo may be treated with a preservative, such as boron or copper sulfate. This helps protect it against decay, insects, and other pests.
Cut the bamboo
Once the bamboo has been processed and treated, it can be cut into the desired sizes and shapes for use in construction. This is typically done using a saw or machete.
Join the bamboo
Bamboo can be joined using a variety of methods, such as lashing with twine or wire, or using metal brackets or bolts. These connections must be strong enough to withstand the weight and stress of the structure.
Benefits of Bamboo Timber
Bamboo has several advantages over traditional timber materials, making it an increasingly popular choice for sustainable construction projects. Some of the benefits of bamboo timber include:
Sustainability
Bamboo is a highly renewable resource, with some species growing up to 1 meter (3 feet) per day. It also requires fewer resources to grow and harvest than traditional timber materials.
Strength
Bamboo is incredibly strong and can be used to create structures that are as strong as steel, but much lighter in weight.
Durability
Bamboo is naturally resistant to insects, decay, and moisture, making it a durable and long-lasting material for construction
Versatility
Bamboo can be used for a wide range of applications, from flooring and furniture to scaffolding and bridges.
Cost-effective
Bamboo is often less expensive than traditional timber materials, making it a cost-effective choice for construction projects.
Aesthetics
Bamboo has a unique, natural beauty that can add a touch of elegance and style to any building or structure.
Bamboo has many advantages as a building material, and its use in construction is likely to continue growing as more people seek sustainable, renewable alternatives to traditional timber materials.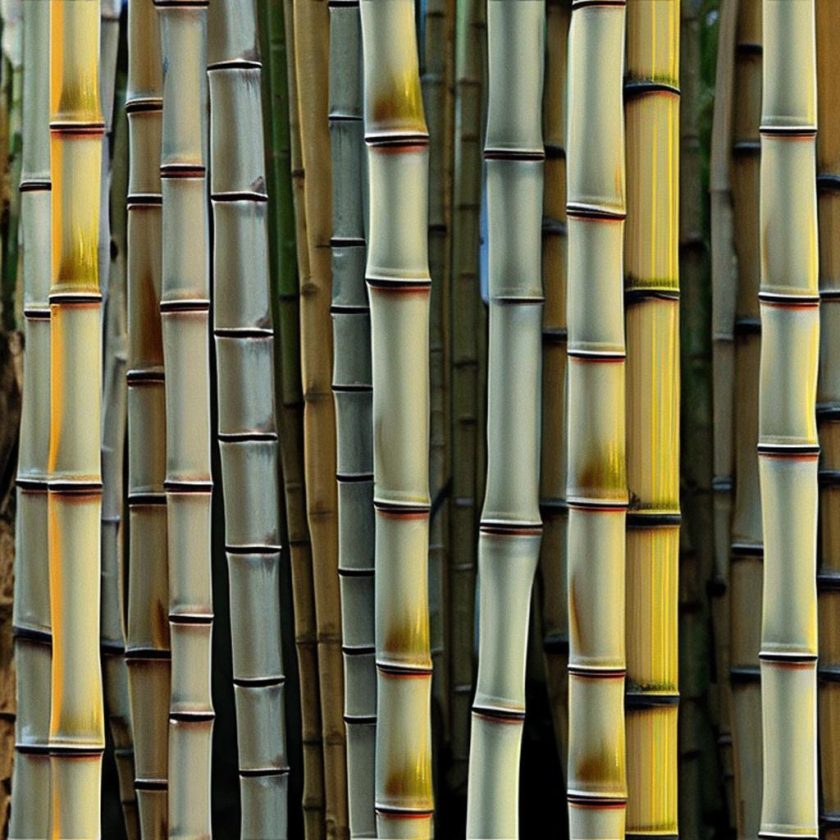 Source OpenAI's chatGPT Language Models, Dalle, AI trot and Fleeky
images Picsart and MIB

©️ help43
Thank you for likes, shares and comments! 🌳🌴🌲🌵
Invest in your future
Take time to learn
Learn affiliate marketing & build your own website with an awesome community and me. Invest in your future, take time to learn and earn. You can be a starter for as long as needed to master the basics before jumping higher. Give it a try, you will not regret! See for yourself...