Mango Chicken or Chicken in Mango Sauce
There are several African dishes that incorporate mango as an ingredient. One such example is a popular West African dish called "Mango Chicken" or "Chicken in Mango Sauce." Here's a recipe for Mango Chicken:
Ingredients:
4 chicken breasts or thighs, boneless and skinless
2 ripe mangoes, peeled and diced
1 onion, finely chopped
2 cloves of garlic, minced
1 teaspoon ginger, grated
1 teaspoon curry powder
1/2 teaspoon paprika
1/2 cup chicken broth
1/4 cup coconut milk
2 tablespoons vegetable oil
Salt and pepper to taste
Fresh cilantro for garnish (optional)
Instructions:
Heat vegetable oil in a large skillet or pan over medium heat.
Season the chicken breasts or thighs with salt and pepper, then add them to the hot oil. Cook until browned on both sides and cooked through. Remove the chicken from the skillet and set it aside.
In the same skillet, add the chopped onion and sauté until translucent.
Add the minced garlic and grated ginger to the skillet. Sauté for another minute until fragrant.
Sprinkle the curry powder and paprika over the onions, garlic, and ginger. Stir well to coat the ingredients.
Add the diced mangoes to the skillet and cook for a few minutes until they start to soften.
Pour in the chicken broth and coconut milk. Stir to combine all the ingredients and bring the mixture to a simmer.
Reduce the heat to low and return the cooked chicken to the skillet, nestling it into the mango sauce. Cover the skillet and let it simmer for about 10-15 minutes to allow the flavors to meld together.
Taste the sauce and adjust the seasoning if needed, adding more salt and pepper as desired.
Garnish with fresh cilantro (optional).
Serve the Mango Chicken with steamed rice or your choice of side dish.
Mango Chicken is a delicious and flavorful African dish that combines the sweetness of mangoes with savory chicken and aromatic spices. It's a delightful representation of the fusion of flavors found in African cuisine.
Please note that there are various regional variations of Mango Chicken across Africa, and the specific ingredients and techniques may differ.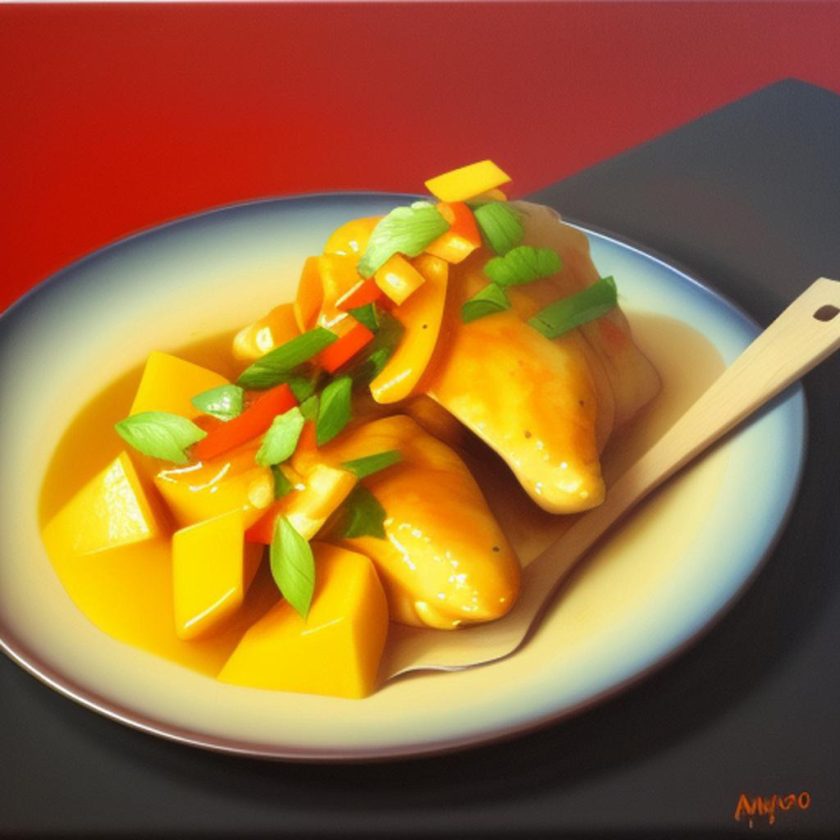 Source OpenAI's chatGPT-3 Language Model, AI trot and Fleeky
images Picsart and MIB

©️ help43
Thank you for likes, shares and comments! 🌳🌴🌲🌵
Invest in your future
Take time to learn
Learn affiliate marketing & build your own website with an awesome community and me. Invest in your future, take time to learn and earn. You can be a starter for as long as needed to master the basics before jumping higher. Give it a try, you will not regret! See for yourself...
Related posts